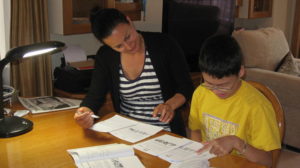 We carefully match clients and tutors.
Our clients are very satisfied and give us many compliments! You can read testimonials below.

"Many thanks to Principal Vanessa and Professor Jane.
The purpose was to complete homework and keep up with classes at the local primary school, but thanks to your support, we were able to achieve results that exceeded expectations.
Jane's lessons not only helped improve my son's English skills, but also showed him the fun of learning English.
I would like to express my sincere gratitude to you for having spent a very meaningful time for two years." Souta's father, Finchley, 2019

"Katharine, the tutor you introduced to me has been very kind and earnest. She's been a brilliant tutor and, thanks to her, I am beginning to speak English little by little. I am also beginning to get used to the life here, and it makes it easier now that I speak some English. Thanks again and I look forward to my future lessons." Iwanaga, Victoria, 2019
"Vanessa's lessons are fun, but of course I learn a lot of things from her. She is very kind too. I always enjoy her lessons. " Momoka, Wimbledon (11 years old – Year 6)
"Vanessa has always managed to find the right tutor for the right time. Our daughters couldn't speak a word of English at first, but Lizzie taught them to speak through baking cakes together and showing them the differences between European countries by drawing pictures. We felt closeness to Jocelyn as she happened to have been to the same school as our daughters. She helped them to prepare for the 11+ exam, which they passed and some time later they also managed to pass the Eiken English Exam at pre-1 grade. Michelle, who was the last tutor for the girls, pointed out their weaknesses on their test papers, which was very useful. All the tutors were very friendly and we have appreciated them all. Inami family, New Malden 2019
"The first session was really good for me Michelle solved my little but many problems. I'm looking forward the next session. Tomoko Mizushima, Putney, 2019
"We were really happy to have lessons with Isshoni London. Especially, please give our warmest regards to Catherine who did a tremendous help to Nanako! Nanako was so lucky to have such a wonderful tutor!  I introduced Isshoni London to my friend, Mrs Sakamaki and I am sure her daughter will enjoy the lessons like we did!  Kind regards,  Machiko Suzuki, Putney 2019
"Thanks to you, my wife is enjoying her lessons enormously. Please give our regards to Jane. Keep up the good work. Yukihiro Otani 2018
"I have really enjoyed the English lessons so much with Ms.Jane! I appreciated her kind lecture for me." Best regards, Kaori Otani 2018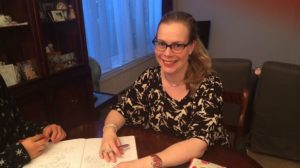 "We were very satisfied with Katie's lesson yesterday. She prepared some kinds of newspaper articles and books for Riku. He enjoyed talking with her and studying English.  We are looking forward to seeing her next Thursday!  Many thanks to you and both of the great tutors you have connected to our son. I pray for your continued health and success. Thank you.  Best regards, Yuriko Takeuchi 2018
"Last month, I finished all of my lessons with Jane. Now I moved to Cambridge. I want to tell you that I very much enjoyed my lessons with Jane. Jane taught me many things which I was interested in. She made me positive for life in the UK. Thank you for introducing her to me. When I get used to life in Cambridge, I want to study English with Jane again by Skype. Sincerely, Yuria 2018
"As for the feedback, I feel lessons with Ms Maria are effective to improve my English skill.  I also enjoy classes with her because her stories are interesting and also funny.  Megumi, IB student, Finchley, August 2017
"English lessons have been really useful for me. I'm looking forward to speaking English every Wednesday. When I talked with Jane I felt refreshed.  She kindly taught me about London so I was interested in London more and more. Writing English and speaking English is difficult for me but I would like to try it. Nao Aso, St John's Wood Dec 2017
"It's been nearly a year since I started taking English lessons from Ruth. She is a very kind teacher, always smiling. She teaches me English pronunciation and general conversation in a easy-to-follow way. Having lived in Japan herself, Rush has a good understanding of Japanese people. She always says,' Don't be afraid to make a mistake!' and manages to get me to talk a lot when we have a conversation, and when I do make a mistake, she shows me the right way to say it by using various examples. She writes down some important phrases for me, so that it will be easier for me to understand and to be able to revise them after class.
She not only teaches me essential words for everyday life, but also tells me about traditional English food, seasonal events and some top stories in the news. I feel very appreciative of Ruth for her caring manner towards my family. She shares our joy and worries as if they were her own. Sanae, Twickenham, 2017 (Housewife)
"My son took English lessons from Marie for about a year. When he first started, he didn't know any English apart from the alphabet, having just arrived from Japan. Marie taught him English words and pronunciation through playing games with him, and my son soon started looking forward to his weekly sessions. Marie also taught him reading and writing accordingly to his capability. It was a nice surprise see my otherwise timid son taking the initiative to talk in English with Marie and enjoying the lessons. I am very pleased to have had Marie for his tutor. Father of Toki, Twickenham, 2017
"It's been two months since my son started taking English lessons from Tom. He is very kind and always gives his lessons with a smile. My son loves football, so during the class Tom talks about football with him as well as trying various other methods to keep him interested. My son really loves his class. So, keep up the good work, Tom! Mother of Toki, Twickenham, 2017 (Housewife)
"I'm glad that Daniel is my teacher. He is great. Ryo, Mayfair, 2016 (Chef)
"Koutatsu enjoys Dora's lesson and tries to speak English much more than before." Mother of Koutatsu, aged 10, Fulham, 2016 (Housewife)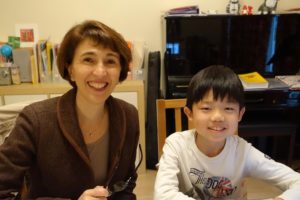 "Both my son and I have been using IsshoniLondon for four and a half years. What I must say about the IsshoniLondon tutors is that they are not only very knowledgeable about Japan but also knowledgeable about wide range of subjects, and their teaching standards are very high. (You don't always find such good tutors elsewhere!).
The tutors understand Japanese ways of thinking and also our weak points in English, and therefore they are able to teach us English very efficiently and effectively.
When we first came to England, my son was only 7 and he didn't even know all the English alphabet. So, he literally had to learn English from scratch, but thankfully his tutors, being familiar with Japanese children and often using gestures to teach, made sure that the lessons were fun, and as a result my son was able to get used to using English without much trouble.
Now that my son is in Year 7, and having reports and so on to write for his school homework, his current lessons are more focused on him being able to express himself better using higher standard of English. Despite English not being his strongest subject, he has recently managed to pass the EIKEN pre-level 1 English Language Proficiency. This is all thanks to the IsshoniLondon tutors who have always maintained the best possible way of teaching according to the level and needs of each student." Takako, Wimbledon, 2015 (Housewife)
"The start of my new life in London was rather difficult as I could not speak or understand English even after six months, and that was when I came across Vanessa's IsshoniLondon.
Catherine was a vibrant and kind teacher. As well as teaching me business English, she talked with me on various subjects, and it was as if I was seeing my best friend every week, and that's how good her lessons were. Catherine, with her two-year experience of teaching English in Japan, understood some typical weakness Japanese people have and was able to give me spot-on advises. She was great and was just the right teacher for me.
Since I started taking her lessons, my husband and friends started commenting that they could see the difference in me and I seemed to have become more confident in English. I cannot thank Vanessa and Catherine enough" Yumiko, Fulham, 2015 (Housewife)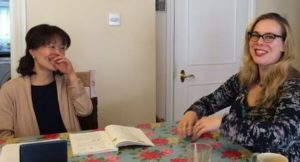 "All the teachers at the school, not only Vanessa, are brilliant. They all have had experience of having lived in Japan and they are interested in Japan, too.
The good thing about private lessons is that you are taught according to your level and needs and I like the fact that I could talk with my tutor just as I would with a friend, sometimes exchanging information with each other, and it made my lesson time more than just for learning English.
IsshoniLondon in particular seems put weight on the importance of a good relationship between tutor and student, so I am sure you will find the best tutor to suit you amongst many tutors the school has to offer. Kayoko, Putney, 2015 (Housewife)
"I work for a bank. My tutor helped me prepare to go to Paris for a secondment. I was very nervous about the interviews. He helped me complete them successfully. In fact, I enjoyed the best lessons I ever had in my life." Mr Suzuki, The City, 2014 (Bank employee)
"I enjoyed every lesson with Miss Julia. She helped me with very difficult or impossible homework, and when it was close to some big event such as Christmas or Easter, she told me about the history, custom and food for that event, and in that way I was able to learn some English culture as well. This made me want to try out many things. As I was free to talk with Miss Julia on many different topics, my spoken English has improved a lot. She was particularly good at history and religion and she taught me some English history or religion that I had not learned in Japanese school. Thanks to Miss Julia, I managed to achieve a very high score on my last exam of the year, and I am very pleased with myself. I appreciate the fact that she taught everything very thoroughly. I shall continue to work hard in improving my English." Minori, Ealing, 2014 (aged 13)
"Ruth's lessons are very enjoyable and my daughter seems very happy with her lessons. My daughter and I go over what we have learned in our lessons afterwards, and we have become more conscious of English words, so our daily lives have become more fulfilling.
Both my daughter and I feel that we actually enjoy using/speaking English now, and we appreciate the way Ruth responds to our needs and gives us her feedback spontaneously and does so with gentleness and kindness. We hope to be able to respond to Ruth much better, and shall do our best to achieve that!" Mrs Takeuchi, Swiss Cottage, 2014 (housewife)
"Hiyori, Nina and I are so happy to have lessons with Maddy. She is so enthusiastic and a hardworking teacher. She notices our weak points and corrects them so gently. Her lesson fills my daughters with lots of joy. I hope she keeps teaching them." Fuki, New Malden, 2014 (Housewife)
"My son had lessons with Vanessa for two years from the age of four.
Through the various games she prepared, Vanessa not only taught my son to read and write English but also lead him very naturally into speaking good grammatical English. As parents, we could see that he was enjoying his lessons and making fast improvements.
My son always looked forward to seeing Vanessa and to her lessons. Since he started taking her lessons, he became more and more confident in speaking English in front of others. As she has different teaching materials to suit any level and age, I would recommend her to anybody." Mrs Komai, Wimbledon 2013 (housewife)
"We went to Japan recently for Satomi to take entrance exams. Thanks to Julia's lessons, she passed the exams. We are so grateful to Julia, Vanessa and Isshoni London. I hoped we could stay here to let my daughter to study in the British school system, but my husband needs to return to the Tokyo headquarters. I deeply appreciate for your support to help us to find such a nice tutor, Julia, for us. We would like to let my daughter to take Julia's class as often as possible while we are here. Thank you." Mrs Umino, Finchley, 2013 (Housewife)
"It has been a great pleasure learning with Isshoni London and Maria and thank you for your excellent support for our two boys in primary school. Hope we can come back to London and see you again in the future." Mrs Kondo, Wimbledon, 2013 (Housewife)
"We feel that Maria understands the characteristic features or ways of thinking of Japanese people very well, as she has lived in Japan for many years. My son could not understand English language at first but has been able to enjoy English lessons in a relaxed atmosphere since then, thanks to her. He seems to continue to have fun in his English tuition every time.
I also am her student and I'm so impressed to hear everything from her. Because she is incredibly bright about everything – including British culture, habit and history – as well as the knowledge and experience as a language teacher. Thanks to her brilliant replies to my questions are always satisfied. I feel happy to have met an outstanding tutor like her." Takako, Wimbledon, 2012 (Housewife)
"To be honest, Jenny is excellent. We are very much satisfied with her. She is always very well prepared and is keen to teach my 11 year old son. He is always looking forward to his lesson. Thank you very much." Anonymous, Sloane Square, 2012 (Japanese Government Worker)
"My wife, who didn't want to go to a school without knowing a single word of English, was relieved to find out that she could take lessons at home where she felt comfortable. We thought that the tuition fee might be more expensive but to our surprise, it was cheaper than enrolling into a language school. It is very efficient as you learn one-on-one and I want to recommend Isshoni London to colleagues that arrive in the UK in the future." Mr Otani, Paddington, 2011 (Nomura Bank Employee)
"While in England, I studied English with various teachers, however, Vanessa is such a wonderful teacher that I definitely recommend her to you. Her lessons are full of ideas and well devised so you can't get bored. In my case, I asked her to strengthen my speaking and pronunciation. She gave me not only "free speaking" lessons but also variety of speaking lessons – such as by using English expressions (or idioms) or pictures, therefore my speaking skill improved tremendously. Vanessa is good at tailoring each lesson to one's own need, and additionally she has full knowledge of the mistakes that Japanese people tend to fall into, therefore her lessons are very effective. Guys, enjoy your progress in English with Vanessa! " Satoru Fujimoto, Wimbledon, 2011 (Cultural Events Planner for Japanese Newspaper)
"One year has passed since I came to London. I realised that unless I started something to improve my English, I would not achieve more accurate spoken English – even though I would have got accustomed to hearing and speaking English to some extent. That is why I began to take Vanessa's lessons. I take one and a half hours one-to-one lesson once a week. The main part of my lesson consists of learning useful expressions in daily life, pronunciation practice and speaking. The content was decided in consultation with Vanessa. Vanessa can find my weak points precisely and train me to improve these points thoroughly, thus, I think I can improve my English soon. Though it sounds like a hard lesson, thanks to Vanessa's friendly way of teaching and her wonderful character, the time in the lesson flies so quickly! I can highly recommend her lesson for everyone." Daigo Okawa, The City, 2011 (Office worker in financial institution)
"I have studied English with lots of different teachers so far, and Vanessa is one of the best. She is full of teaching ideas & unique teaching techniques. Her lesson is always lots of fun and most importantly, it is very practical. I recommend her to anyone who is serious about studying English!" Ayumi, Wimbledon, 2011 (Pediatrician)
"My son Junpei and I enjoyed studying English with Vanessa for almost two years. She was always very reliable, on time and well-prepared. When Junpei needed to pass the Pre-2nd Eiken test to help with his application to high school, Vanessa tutored him intensively. We were very happy when he passed the exam with good results. I would like to recommend Vanessa, and her company, Isshoni London, to other Japanese people living in London." Yumiko Hayami, West Acton, 2010 (Housewife)
"I know that Vanessa, an English teacher in Tochigi City for three years, was loved by her students very much. She also studied Japanese language very hard. I really appreciated her." Sumie Shiina, Tochigi, 2010 (Teacher of Japanese for Foreign Students)
"Vanessa is a very cheerful and kind teacher. The content of the classes is planned carefully depending on each student's needs, which is very satisfying. I enjoyed studying with her! With her experience teaching English in Japan, she understands Japanese students' needs. I naturally picked up my attitude to try to speak English accurately, as she helped to correct my mistakes devotedly." Yumi Takei, Tochigi, 2010 (Teacher of Japanese for Foreign Students)