About Private Lessons
Our skilled tutors will help you to help you understand English culture and language so you can really enjoy living in London…
Lessons are tailor-made for you.  Some options for you to choose from:
Business / Executive (email & telephone, presentations etc.)
Daily Life / Conversation (useful phrases for shopping & restaurants, grammar & vocabulary etc.)
Students / Children (UK & International School support – including homework help, entrance exams, exams such as GCSEs, A levels, etc.)
Exams / Qualifications (exams such as IELTS, STEP EIKEN, TOEIC, TOEFL, KET, PET, FCE, and so on, university & college essays etc.)
Special Purposes (interviews, flight attendants, British pronunciation etc.)
"My son Junpei and I enjoyed studying English with Vanessa for almost two years. She was always very reliable, on time and well-prepared. When Junpei needed to pass the Pre-2nd Eiken test to help with his application to high school, Vanessa tutored him intensively. We were very happy when he passed the exam with good results. I would like to recommend Vanessa, and her company, Isshoni London, to other Japanese people living in London."
Yumiko Hayami (Housewife)
Our Clients
We pay close attention to the matching process between students and tutors. We have received many compliments from our satisfied students, please read a selection of their testimonials here.
Banks and Businesses: Nomura Bank, Mitsubishi UFJ, Metal One, UMU Restaurant, Maruho Europe, Japan Clinics in London, Shionogi Pharmaceuticals, SMB Nikko, JLGC, Virgin Airlines, SMBC Nikko Capital Markets Ltd., JFE Steel Europe Limited, The Bank of Tokyo- Mitsubishi.
Many Private and Public British Schools: International, Independent Schools & Prep Schools including The Dragon School, Marymount International School, St. Nicholas Prep School, Frith Manor, Sutton High School, Canbury School, Hampstead Hill School, The King's College School, as well as local schools in Acton, Wimbledon and St John's Wood.
We also teach children from age 4 from Japanese nurseries and schools: Bunka Yochien, Maida Gakuen and The Japanese School in Acton.
Professors, Post Graduate Scholars and Academics from Many Top Universities: St George's University, The University of the Arts, The University of Westminster, UCL, various visitors from Japanese Universities.
Professionals: Doctors, Lawyers, and Teachers.
Creatives and Sportspeople: NHK TV Directors, Newspaper editors, Designers & Artists.
IsshoniLondon.co.uk tutors are very friendly and especially popular with Japanese housewives.
Our Tutors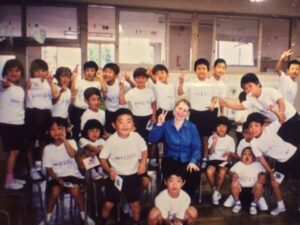 All IsshoniLondon.co.uk Tutors have experience teaching Japanese students.  Tutors are mostly former JET Programme participants (The Japan Exchange and Teaching Programme – a Japanese government initiative) who have spent at least 1-5 years teaching in primary, middle, or secondary schools in Japan.
All IsshoniLondon.co.uk tutors have a Bachelor's degree, and most also have an additional teaching qualification, such as a CELTA, TEFL or PGCE.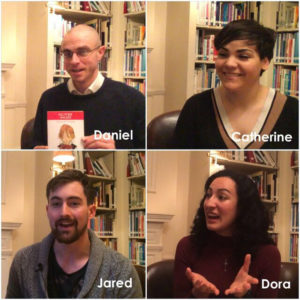 Our tutors are the friendliest in London! Please read about some of IsshoniLondon.co.uk's terrific tutors below.
Here is just a small selection of our wonderful private English tutors! We match our tutors and students very carefully. (Read what our students say here).
Jane is an award-winning novelist with a post-graduate degree, who tutors both children and adults.
Jonathan has 10 years' experience teaching English and leading business training in Tokyo.
Helen taught in Japan on the JET programme. She is now a school teacher, residing in West London.
Tim is an Eton-educated professional artist, and enjoys tutoring at home in Notting Hill.
Suzanne is a highly qualified TEFL tutor, specialising in communication and business English.
Denise lives near Wimbledon, and is experienced in teaching early years in the Middle East.